January-February shows
Happiness is a Warm Gun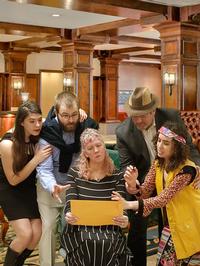 Our new show, Happiness is a Warm Gun is in the works. You are receiving this email because you attended one of our shows or someone did and added you to our email list. If you would rather not hear about upcoming shows, please unsubscribe and we won't send you anymore emails.
Mrs Kite has a secret and someone is willing to kill for it. Is it Eleanor Rigby, Albert Lane or rich boy Desmond Dakota? Maybe it is is newest girlfriend Sadie. Come along and help us figure it out, for the benefit of Mrs Kite.
Show dates, so far are,
Saturday Jan 19th at Ventfort Hall in Lenox MA
Friday Jan 25th at Cameron's Winery in Northfield MA
Saturday Jan 26th at The Elk's Club in Turners Falls MA
Saturday Feb 2nd at The Pasta Loft in Milford NH
Saturday Feb 16th at Ventfort Hall in Lenox MA
Saturday Feb 23rd at the American Legion in Hatfield MA
For information on how to get tickets, please go to our website, thecomicalmysterytour.com and check the schedule. For the shows we have the info for, it is there. We are waiting on a couple of shows for more ticket info.
Thank you everyone and we wish everyone the Happiest of Holiday Seasons and look forward to seeing everyone in 2019.
Posted: to News & Newsletters on Mon, Dec 24, 2018
Updated: Mon, Dec 24, 2018